Surgical Expertise Saves Cancer Patient
Surgical Expertise Saves Cancer Patient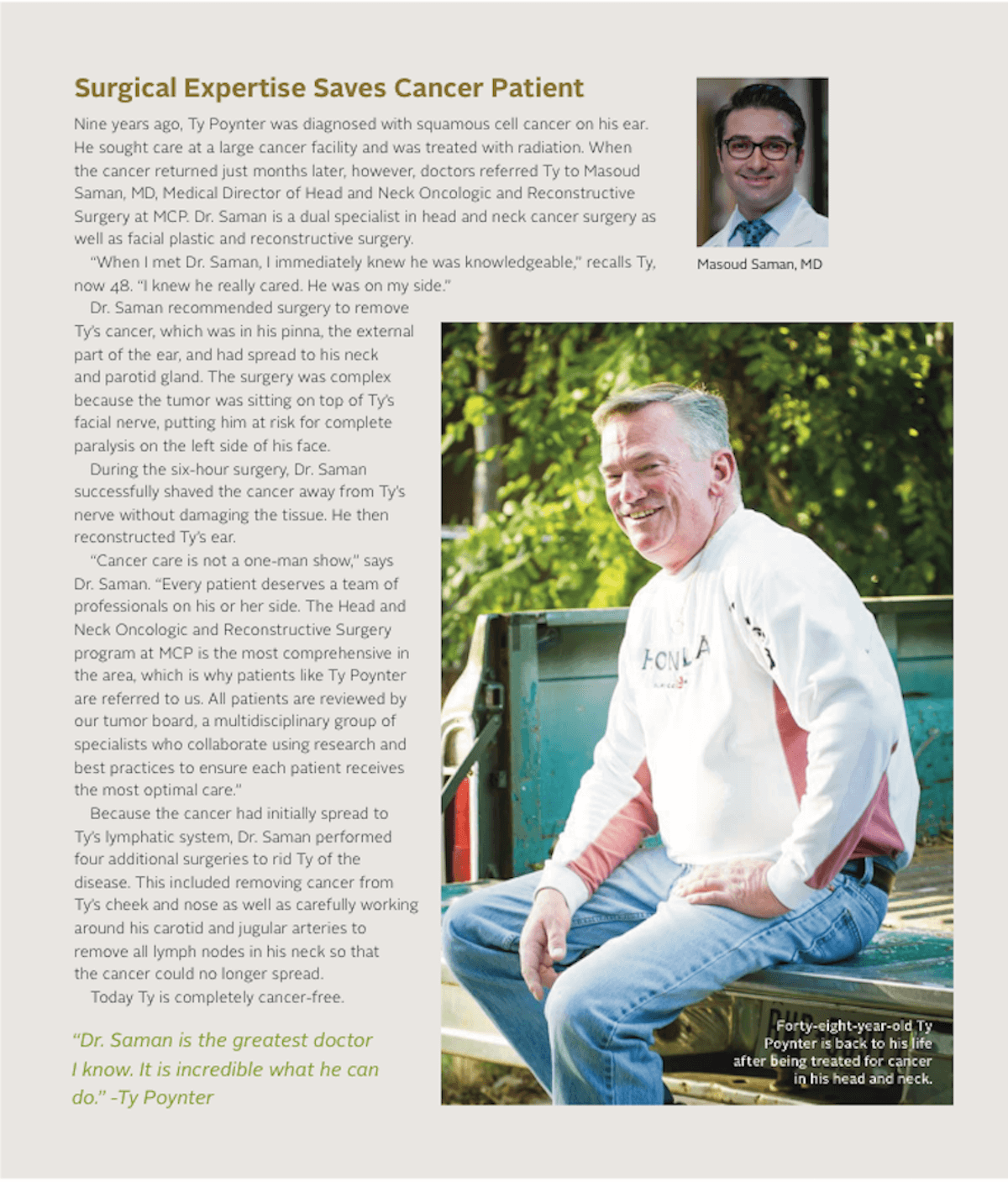 Surgical Expertise Saves Cancer Patient
Nine years ago, Ty Poynter was diagnosed with squamous cell cancer on his ear. He sought care at a large cancer facility and was treated with radiation. When the cancer returned just months later, however, doctors referred Ty to Masoud Saman, MD, Medical Director of Head and Neck Oncologic and Reconstructive Surgery at MCP. Dr. Saman is a dual specialist in head and neck cancer surgery as well as facial plastic and reconstructive surgery.
"When I met Dr. Saman, I immediately knew he was knowledgeable," recalls Ty, now 48. "I knew he really cared. He was on my side."
Dr. Saman recommended surgery to remove Ty's cancer, which was in his pinna, the external part of the ear, and had spread to his neck and parotid gland. The surgery was complex because the tumor was sitting on top of Ty's facial nerve, putting him at risk for complete paralysis on the left side of his face.
During the six-hour surgery, Dr. Saman successfully shaved the cancer away from Ty's nerve without damaging the tissue. He then reconstructed Ty's ear.
"Cancer care is not a one-man show," says Dr. Saman. "Every patient deserves a team of professionals on his or her side. The Head and Neck Oncologic and Reconstructive Surgery program at MCP is the most comprehensive in the area, which is why patients like Ty Poynter are referred to us. All patients are reviewed by our tumor board, a multidisciplinary group of specialists who collaborate using research and best practices to ensure each patient receives the most optimal care."
Because the cancer had initially spread to Ty's lymphatic system, Dr. Saman performed four additional surgeries to rid Ty of the disease. This included removing cancer from Ty's cheek and nose as well as carefully working around his carotid and jugular arteries to remove all lymph nodes in his neck so that the cancer could no longer spread.
Today Ty is completely cancer-free.
"Dr. Saman is the greatest doctor I know. It is incredible what he can do." -Ty Poynter